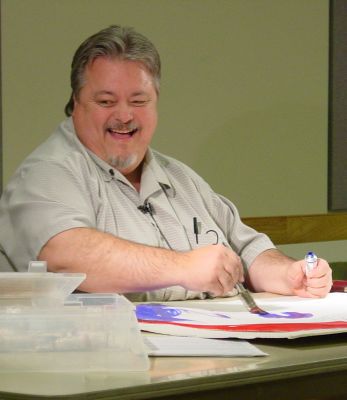 ARTISTS STATEMENT
"I am a product of the Midwest. Family circumstances meant that I attended four different grade schools, two high schools and three colleges. Yet despite all this change, or maybe because of it, home life remained structured, disciplined, and grounded in religious dogma. Schedules were rigid. Conformity was encouraged and valued. Exploration or experimentation, shunned and suspect. This ying-yang conflict affects me to this day. I crave change and new experience while at the same time finding myself drawn back to the stability of solid ground – the landscape. Often in my landscape painting, there is tension between the freedom of color and brush stroke against the solidness of the earth; the violence of the sky against a calm earth; or the chaos of earth against the serenity of the heavens. Sometimes I'm accused of painting two different paintings on the same sheet of paper – but in reality, I am painting the truth, the ying-yang that is deRuyter."
"Although the process is different, the same principles apply in deRuyter's abstract paintings. Layers, and texture, and sometimes limited colors – all work to capture my perceptions and conceptions in works of abstract nuance. Spirituality not only surrounds us in the environment, but is in the very essence of our thoughts and emotions. Capturing thought is ultimately much more complicated than capturing the landscape. Using layers of paint, deRuyter captures the impermanence of mood, emotion, and thought. My dream, is to capture and paint the 'air' both external and internal, and then, ultimately, that which makes us understand and relish it."
BIOGRAPHY
"All who wander are not lost"*
It seems that every artist must, at times, feel as if they are wandering aimlessly, grasping for something that seems always just beyond their reach. This is certainly how I felt when I first set out on my own mid-life art journey. I was attempting to paint traditional watercolor and found it frustrating and unsatisfying. My frustration — and the advice of a wise mentor — led me to break the "rules," experimenting with nontraditional application of the paint… squeezing colors directly from the tube and mixing them right on the paper.
Leaving the palette behind also led me to a bold disregard of traditional color application. Often, I started painting with colors that were the exact opposite of where I wanted them to end up. Along the way, my paintings often went though grey stages before wandering back to bright colors. I took great joy in playful color relationships and most collectors considered me a "colorist."
In this colorist phase, my subjects were mainly landscapes in which I attempted to express how a place "felt" to me, rather than how it appeared to the eye. The landscapes became expressions of my "outer spiritual," driving me to a place where my primary goal was to "paint the air."
Gradually, I wandered from landscape to sky, developing an obsession with capturing the emotionality of clouds, from dark and angry, to calm and billowy, to shockingly intense in the setting sun.
The more I painted landscapes and clouds — my "outer spiritual" — the more I felt drawn to explore my own "inner spiritual."
I am not done wandering, of course. Perhaps in the next phase of my journey, I'll discover a way to combine both my outer spiritual and my inner spiritual into something wholly new.
*"Not all those who wander are lost," from the poem "All that is gold does not glitter," written by J. R. R. Tolkien for The Lord of the Rings
Past VIDEOS where Calvin deRuyter has been featured:
LRAC Single Person Exhibition 2021: https://www.youtube.com/watch?v=kiBGhuouC3E
Art-A-Whirl Video 2014: https://www.youtube.com/watch?v=JYu0t-m0kws
"Master Manipulations", six artist exhibit at Hopkins Center for the Arts, 2012: https://www.youtube.com/watch?v=8vb0IzkDYws
Introduction video 2010: https://www.youtube.com/watch?v=_GDA84vLag8
Education:
BFA in Fine Art, Hamline University, St. Paul MN
Proud Member of:
NorthStar Watermedia Society (Signature Member)
Red River Watercolor Society (Signature Member)
Art of the Lakes
Hopkins Center for the Arts
White Bear Center for the Arts
Minnesota Artists Association
Evansville Art Center
Alexandria Arts Alliance
Arizona Artists Guild
Selected Awards:
"Oz," the Minnesota Artists Association 85th Annual Fall Member's Exhibition, 2022
"Formare Due," Winsor & Newton Award, 4th NorthStar National Juried Exhibition, 2018
"Morning Ground Fog," Honorable Mentio n Award, NorthStar Watermedia Members' Exhibition, 2017
"The Sun Settles," Best of Show, Hopkins Center For The Arts 2016 Members Exhibition, 2016
"Morning Ground Fog," Award of Merit, Minnesota Artists' Association Member's Exhibition, 2016
"Glassy Waters," Award of Merit, NorthStar Watermedia Association Member's Exhibition, 2013
"Cloud Bank," Award of Excellence, NorthStar Watercolor Exhibition, 2012
"On the Hill," Merit Award, Red River Watercolor Society, 2012
"Grey Skies," Honorable Mention, NorthStar Watercolor Member Exhibition, 2011
"Grey Skies," Award, National Juried Exhibition, Red River Watercolor Society, 2011
"Grey Skies", 2nd Place and a Member's Choice, Artists of Minnesota 2011 Spring Convention, 2011
"Hilltop," People's Choice Award, NorthStar Fall Show
"Hilltop," Award of Merit, NorthStar Watercolor Exhibition, Nov 2010
"Fall Shower Passing Us By", Award of Excellence, 2009 NorthStar Watercolor Exhibition, 2009
"Clouds Over The Plains," Honorable Mentio, Hopkins Center for the Arts, 2009
"Clouds Over The Plains," Jack Richeson & Co, Inc. Award, Red River Watercolor Society 2008
"Grazing," Award of Excellence, March Madness Show, Robbin Gallery, 2008
"The Opening," Award of Excellence, March Madness Show, Robbin Gallery, 2008
"The Inlet," Second Place, Artists of Minnesota Spring Show, 2007
"The Inlet," Creative Originality Award, Artists of Minnesota Spring Show, 2007
"The Last Harvest," Award of Merit, NorthStar Watercolor Society 2006 Fall Member Show
"The Inlet," Award of Merit, Extremely Minnesota 2006, Robbins Gallery, Robbinsdale
"Mountain Wildflower," Honors, Gallery 96, 2005 Fall Exhibit
"Johnson Barn #1," Mathison's Award, 2005 12th Annual Red River National Juried Exhibition
"Johnson Barn #2," Best of Show, NorthStar 2004 Fall Exhibition
"Johnson Barn #1," Best of Show, Extremely Minnesota 2004, Robbins Gallery, Robbinsdale
"Foggy Morn," Honors, Extremely Minnesota 2004, Robin Gallery, Robinsdale
"Elevation #2," Best of Show, NorthStar 2003 Fall Exhibition
"Mountain Wildflower," Honors, Minnesota Watercolor Society, 2003 Fall Exhibition
Selected Shows:
Solo exhibition, Evansville Art Center, 2022
"All Who Wander Are Not Lost," 1-person 3-month exhibition, Lake Region Arts Council Gallery, 2021
"Mesmerized, Landscape," 2-person show, Northwest Iowa Area College, 2013
Exhibit by The Escape Artists, "Master Manipulations," Hopkins Center for the Arts, 2012
10 paintings exhibited in multi-person show in Owatonna Arts Center, 2010
One-Person Show, White Bear Unitarian Universalist Church, Mahatamedi Mn, 2010
"Grounded Visions, Heavens Above", One-Person Show, Great River Arts Center, Little Falls MN, 2009
"Impressions," One-Person Show, College of St. Benedict, 2007
"Envisage", One-Person Show, New York Mills Regional Cultural Center, 2007
Featured Artist, LOOK Gallery, Marshall Fields Southdale, 2006
5-Person Uncharted Water, Hopkins Center for the Arts, 2006
5-Person Uncharted Water, Frank Stone Gallery, 2005
One-Man Show, "A Tasty Palate," Sisu Coffee & Deli, 2005
One-Man Show, "A Tasty Palate: Watercolors sans Palette", Evansville Arts Coalition, 2005
5-Person Uncharted Water, Robbin Gallery, 2005
Of Separate Note:
Demo Artist on Abstracts, Central Minnesota Watercolorists, St. Cloud, Oct. 2023
"Water Music #2" juried into the 9th Annual NorthStar Watermedia National Juried Exhibition, 2023
Conducted a 5-part class on the "Elements of Art", Art of the Lakes, Summer 2023
"Alternate Universe" juried into the 2022 Online Juried Member's Show of The Red River Society, 2022
"Spirit Renewed" juried into "Inspirations 22" Minnesota State Community and Technical College Fergus Falls, 2022
"Pas de Deux" juried into the 8th Annual NorthStar Watermedia National Juried Art Exhibition, 2022
"Burning Question" and "We All Fall Down" juried into the Hopkins Center For the Arts Juried Member Show, 2021
Elected to 3-year term as Board Member for Lake Region Arts Council, 2021
"Lucky Landing" juried into "Professional Category" of Red River Society's 1st Annual Members' Online Juried Show
"Creation," juried into the 7th NorthStar Watermedia National Juried Exhibition, 2021
Judge, Year-End Competition, Crosstown Camera Club, 2021
Judge, March Salon, Crosstown Camera Club, 2021
"Untitled 219," juried into the 6th NorthStar Watermedia National Juried Exhibition, 2020
"Out of the Lines," One Day Workshop, White Bear Center for the Arts, 2019
Taught maultiple ongoing classes in Abstract Concepts, White Bear Center for the Arts, 2019
"Burning Question," juried into the 5th NorthStar Watermedia National Juried Exhibition, 2019
'The Abstracted Portrait and Figure,' 2-day Workshop at White Bear Center for the Arts, 2019
Futureist on the Board of Directors, NorthStar Watermedia Society 2006-2019
Chair, Prospectus Committee for National Exhibition, NorthStar Watermedia Society, 2014-2019
"Formare Due," juried into the 4th NorthStar Watermedia National Juried Exhibition, 2018
"The Abstracted Landscape," 2-day Workshop at White Bear Center for the Arts, 2018
Exhibition Judge, Minnesota Watercolor Society's Fall Show "Awash In Autumn," 2018
"Loosen Up Your Painting," 2 4-week class sessions at White Bear Center for the Arts, 2018, 2019
"Arrangement in Blue Vase," Cover art, 2018 Summer Catalog, White Bear Center for the Arts
"Claim Your Own Abstract," 2-day Workshop at White Bear Center fror the Arts, 2018
"Digging Deep Inside," 3-day Workshop at White Bear Center for the Arts, (return visit) 2018
"Taking Flight," juried into the 3rd NorthStar Watermedia National Exhibition, 2017
"Digging Deep Inside," 3-day Workshop at White Bear Center for the Arts, 2017
"The Sun Settles," juried into the 24th Annual National Watermedia Exhibition of the Red River, 2017
"The Sun Settles," juried into the 2nd NorthStar Watermedia National Exhibition, 2016
"Painting Skies," 2-Day Workshop, White Bear Center for the Arts, 2016
Acheived Signature Membership status, NorthStar Watermedia Society (NSWS), 2015
"The Clouds Open" juried into NorthStar Watermedia's First National Juried Exhibition, 2015
Conduct 3-day Workshop, White Beaar Center for the Arts, 2015
Conduct 3-day Workshop in Cormorant MN 2013
Exhibition Judge, Artist Del Norte Member's Exhibition, 2013
Commissioned for a series of 8 paintings for a private company's cookbook, 2013
Guest demo artist; Artists del Norte, 2012
Guest demo artist: Central Minnesota Watercolor Society, St. Cloud 2012
Watercolor Society Fatured artist in Maple Grove Magazine, October issue, 2012
Conduct 3-day Workshop: Battle Lake MN 2011
"Twilight Glow" was featured in American Art Collector Magazine in their special section "Collecting Landscape Art"
Conduct 3-day Workshop: Alexandria MN 2011
Guest demo artist: Artists of Minnesota Annual Convention, 2011
Artist Reception for my art at Alesci Gallery in Stillwater MN 2010
Conduct 1-day Workshop; Edina Art Center, 2010
Earned Signature Member Status, Red River Watercolor Society (RRWS)
"Fall Shower Passing Us By," juried into the 17th Annual Red River Juried National Exhibition, 2010
"Fall Shower Passing Us By," Cover art, 2010 NorthEast Minneapolis Arts Association Catalog
Conduct 2-day Workshop: Alexandria MN. 2010
Conduct 2-day Workshop: Battle Lake MN. 2010
Participated as a student in the Taos Intensive Workshop, 13 days, 100 artists, 5 art instructors
Conduct 2-day Workshop: Minnesota Watercolor Society. 2009
Judge: Minnesota Watercolor Society Spring Membership Show, 2009
Conduct 1-day Workshop: Duluth MN 2008
Guest demo artist: Minnesota Artists Association, Bloomington Center for the Arts, 2008
Conduct 1-day Workshop: Hackensack MN, 2008
Conduct 2-day Workshop: Battle Lake MN, 2008
Conduct 1-day Workshop: New York Mills Regional Cultural Center, 2007
Conduct 2-day Workshop: Battle Lake MN 2007
Guest demo artist: Artist of Minnesotas, Brainerd, 2007
Judge 10th Annual Community Art Show, St. Anthony Park, 2007 and 2008
Demo Artist, NorthStar Watercolor Society General Meeting, 2007
Judge and Guest Speaker on Design, Minneapolis Camera Club, 2007
Painting Demonstration, 2007 "Art On A Line", State Fairgrounds, 2007
Judge, Minneapolis Camera Club, 2007
Demo Artist, Artists of Minnesota, Brainerd, 2007
1-day Workshop leader, New York Mills Regional Cultural Center, 2007
Judge, 9th Annual Community Art Show, St. Anthony Park, 2007
Instructor, Studio at Rush Creek, Maple Grove MN 2006-2010
1-day Workshop leader, Brainerd MN, 2006
Judge and Guest Speaker on Design, Minnetonka Camera Club Edina MN, 2006
Demo Artist, Phelps Mill Festival, 2006
Painting Demonstration, 2006 "Art On A Line", State Fairgrounds, 2006
3-Member Panelist, NorthStar Watercolor Society, 2006 Member Meeting, "Reproduction Printing."
Judge, Twin Cities Area Camera Club's Interclub Competition, 2006
Painting Demonstration, HARG, 2006
Judge, Crosstown Camera Club, 2006
Painting Demo, Evansville Arts Coalition, 2005
Exhibition Lecture and Discussion, "A Brush With Art," 2005
Painting Demonstration, 2005 "Art On A Line", State Fairgrounds, 2005
Co-Chair of 3rd Annual Art On A Line, State Fairgrounds, 2005
Judge for Gallery 96 exhibit, "A Brush With Art," 2005
Painting Demonstration, NorthStar Watercolor Society, 2005
Judge for Hennepin Artists of Robbin Gallery, "Spring Madness Member's Show," 2005
Painting Demonstration, Minnesota Watercolor Society, 2004